The 2021 Subaru Love Promise Community Commitment Award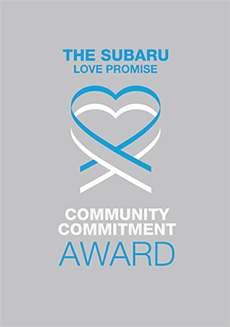 We've been nationally recognized for our dedication to our community and the Subaru Love Promise.
We're honored to receive the 2021 Subaru Love Promise Community Commitment Award. This award nationally recognizes Subaru retailers who are making the world a better place while demonstrating an outstanding commitment to supporting passions and causes in local communities. These efforts are focused in important areas such as the environment, community, health, education, and pets.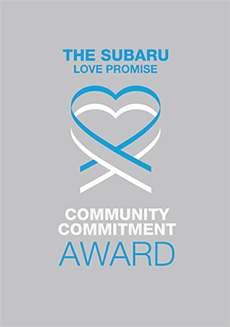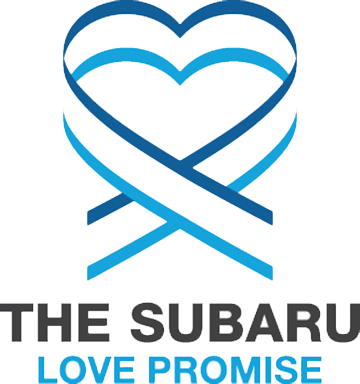 What is the Subaru Love Promise?
Subaru and our retailers believe in making the world a better place and the Subaru Love Promise is our vision of respecting all people. This is our commitment to show love and respect to our customers and to work to make a positive impact in the world.
How is Dunning Subaru dedicated locally to the Love Promise?
Our Love Promise can be seen in various partnerships with local charities and non-profits. We're grateful for the opportunity, not only to be a part of our community, but to serve it as well.
Love Promise Stories from Dunning Subaru
Subaru and Dunning Subaru believe in making a positive impact on the communities in which we live and work. We uphold that belief through our Love Promise Community Commitment. Every month, we select inspiring stories from customers and partners from around our area who strive to support our collective commitment and feature them here
Thank you from HSHV! - Laura C
The Humane Society of Huron Valley was thrilled to partner with Dunning Subaru this Fall for the Subaru Loves Pets campaign! Together we promoted animals in need of homes throughout the month of October, and Dunning's adorable Pawblic Relations Manager Vegas Bailey enthusiastically shared his fellow canines' stories on social media. Finally, at the end of October we were delighted to welcome Dunning representatives to our shelter for a livestream with adoptable animals. Fundraisers like this make even more of a difference during uncertain years like this one, and we are very lucky to have Dunning Subaru in our community!
---
Make a Dog Day's in October - Elena M
As October comes to a close, we're very grateful to Dunning Subaru for all they did for the animals this month! Through their Subaru Loves Pets campaign (headed by Vegas Bailey, their Pawblic Relations Manager in the bandana below), they donated lots of goodies for the shelter animals and $100 for each pet adopted in October. So THANK YOU Dunning, for finding a creative way to help the animals during this difficult year!! Humane Society Huron Valley Ann Arbor
---
Dunning Subaru Subaru Loves the Arts - Brad M - Bradley M
The Michigan Shakespeare Festival started in 1994 and has grown into one of the premier theatre companies in the Great Lakes region. Our mission is to inspire and entertain diverse audiences, with evocative, interesting, and epic productions of classical theatre's greatest plays. Dunning Subaru has been an integral part making the past seasons a success and we are very grateful for their continued support of our program and the individuals in it.
---
Dunning Subaru helping fight hunger - Elena M
Food Gatherers has a clear mission, to ensure that no one goes hungry. They are committed to helping the community and it's hunger problems. As a testament to this commitment they distribute about 5.5 million pounds of food to 150 nonprofits in the Washtenaw area. Providing food is not all they do, they also have a job training program for at-risk youth and not only teach them basic culinary arts but also including work and life related skills. Dunning Subaru is a partner in the fight against hunger in our community. Their Subaru Loves to Help donation in 2020 provided more than 28,000 meals for children, families, and seniors facing hunger during the COVID-19 pandemic. We look forward to working together with them in the future!
---
A Day of Giving at Dunning Subaru - Brittney S
The best part about working for Subaru of America, Inc. is being able to give back to our community - showing up with All The Love at every chance we get. Subaru is a brand built around Love. From Subaru Loves to Care (C.S. Mott Children's Hospital with The Leukemia & Lymphoma Society) to Subaru Loves to Learn (Ann Arbor Public Schools) and Subaru Loves Pets (Humane Society of Huron Valley), it's our honor here at Dunning Subaru to take part in these collaborative measures to contribute to our community.
---
Dunning Subaru Loves to Care - Jamie R
Community is a major component to Dunning - a driving force to the pulse of our mission, much of which is charitable as we give back to the very folks who keep us up and running. It's all a grand balance of give and take so that we can give more. Experiences such as this one here - where we were able to gift cozy blankets to patients at C.S. Mott Children's Hospital - mean everything. The children we met, the survivors, the warriors, their parents and caretakers, all fighting every day the challenges of these struggles - they are superheroes. Whenever we can, we will help however possible. Dunning Subaru Loves to Care! <3 We are so grateful for this opportunity to Share The Love a little more with the help of The Leukemia & Lymphoma Society.
---
Dunning Subaru brings warmth to cancer patients - Jamie R
On Monday, July 29th, the Michigan Chapter of The Leukemia & Lymphoma Society (LLS) and Dunning Subaru had the pleasure of delivering 80 blankets to C.S. Mott Children's Hospital as part of the Subaru Loves To Care program. These comforting gifts were accompanied by personalized messages of hope written by the customers and staff of Dunning Subaru. This incredible act of generosity was warmly received by the hospital staff, Byron Myer & Mary Breakey who were thrilled to distribute these comforting gifts to their patients. We had the opportunity to delivery to patients all throughout the 7th floor which is the pediatric wing of the hospital. On the 7th floor we were lucky to be introduce to ZuZu & Thomas. Being able to deliver a small gesture of comfort that day and seeing their smiles, perfectly captured why the program exists. LLS is proud to partner with Subaru to spread hope, love and warmth to those fighting cancer, across the country and right here in the Ann Arbor community.
---
Dunning Subaru Delivers Blankets - Jo B
Dunning Subaru in Ann Arbor and LLS team up to give blankets out to C.S. Mott Children's Hospital! Todd Bailey and Peter Van Buren from Dunning Subaru were excited to be part of the Subaru Loves to Care program! The staff of C.S. Mott's were touched by Subaru's generous gift of 80 blankets. Kevin Smith from the hospital was in attendance to receive the blankets and cannot wait to pass them along to their patients. Huge thanks to C.S. Mott Children's Hospital, Dunning Subaru, and LLS, for making connections that count!
---
Subaru and NWF Love the Earth! - Neha S
The King Learning Garden provides a source of locally grown organic food for our school community and offers a connection to the earth that inspires new ways to think, learn, and live. We observe and learn from all living things and nature in our garden. The students care for the garden, plant the seeds and harvest. I wish I could include more photos of the Subaru staked garden sign and Perennials that we planted into our pollinator bed as well as photos of students tending to our garden. Subaru loves the Earth is a great program and just having the staked garden sign has sparked many conversations about the National Wildlife Federation, nature and Subaru.
---
Share the Love - Shana W
Interfaith Hospitality Network at Alpha House is our community's response to child and family homelessness. We serve over 45 families a year and the need is constant. Thanks to Dunning Subaru's support through the Share the Love event, IHN at Alpha House is able to continue its mission of providing shelter, food and support services to families in Washtenaw County.
---
Toys for Tots Toy Drive - Pete V
Dunning Subaru in Ann Arbor, MI support of Toys-For-Tots inspires new employee 7 his family to get involved One of our new Sales Consultants, and his fiance were so impressed with our Marine Sponsored Toys for Tots program that they went out and bought two big bags of brand new toys. Here is a picture of all the toys we collected, filling up a pick-up truck at the store for delivery.
---