2014 Subaru Impreza Walk Around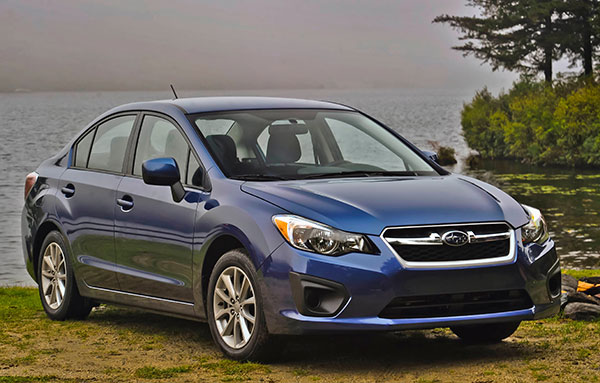 The Subaru Impreza presents a dynamically forward-thrusting shape. The base of its A-pillar is planted well forward, which rakes the windshield steeply back, resulting in a sleek, modern profile. But this is more than just a pretty face.
In overall length the Impreza sedan measures just 180.3 inches; the 5-door is actually shorter, at 173.8 inches. But the aggressive cabin shape, besides looking great, has allowed Subaru designers to achieve startling interior space and efficiency. The Impreza is roomy, comfortable, and easy to get in and out of. The front door opening is enormous, and the rear door opening fairly large also.
In other respects as well, the Impreza is pleasing and modern. Its low, short hood and streamlined shape contribute to an enthusiastic form that moves through the air efficiently, registering a low coefficient of drag of 0.31 for the 4-door and 0.33 Cd for the five-door. The nose is aggressive, with air intakes shrouded for the lowest amount of aerodynamic drag. The rakishly shaped headlight clusters seem to glower with determination. The Impreza's sides have three character lines, thrusting downward and ahead. Finally, the wheel wells are surrounded by a distinctive flat semicircular bevel that keeps the profile from looking too heavy.
It's fairly easy to distinguish one grade from another, once you know what to look for. Base 2.0i models wear six-spoke plastic wheel covers which look like, well, plastic wheel covers. Premium models upgrade to alloy wheels of a pleasingly simple 10-spoke design. Limited rims look sophisticated and airy; there are 15 spokes total, 10 of which are visually paired, so 5 pairs alternate with 5 singles. Add fog lights and a dash of chrome here and there, and the Limited is hands down the most elegant and mature of the line. Sport-model rims feature 10 flattened, angular spokes that, with their gunmetal-grey finish, manage to look at once sturdy and tortured. Topped with their conspicuous black roof racks, Sport models look more ready for a safari than a road rally.
All in all, the Impreza is one of the most attractive small cars in the marketplace, eschewing the cheap/minimalist theme of some others for an appearance of true chic.
Interior
Entering the cabin for the first time, the Impreza has an airy, nicely stylish feel, with a relatively low beltline and a large greenhouse with large windows that welcome the outside world. The instrumentation looks simple and straightforward, as opposed to high-tech and demanding. It is a look that is fully in keeping with Subaru's gee-whiz-free approach. The dashboard and switchgear are covered with very nice soft-touch materials that give them an expensive, adult feel.
In keeping with this well-equipped theme, all Impreza models are fitted with a driver-side knee airbag, complementing the full standard array of mandated airbags.
Similarly, the layout and dispersion of instruments and controls is nicely intuitive; you feel you understand all you need to understand from the first exposure to them. The main dials for engine speed (redline 6600 rpm) and vehicle speed are black-on-white and almost disappointingly plain, in keeping with Subaru's no-nonsense tone. The cruise control, audio control and hands-free phone controls on the steering wheel are dead simple, with little toggles that do their job well. A small multi-function Info display is located dead ahead between the tachometer and speedometer.
Audio systems for Limiteds have their own 4.3-inch display, which becomes a 6.1-inch LCD screen when you order navigation. For 2014, the navigation system incorporates Subaru's Aha smartphone integration, whose features include radio stations, newsfeeds, audiobooks and more. Aha uses the Nav system's synthetic voice and voice activation technology not only to receive commands but to read Tweets, podcasts, etc. out loud, so drivers are less tempted to take their eyes off the road.
The front seats are average in terms of comfort and lateral support, appropriate to this thrifty, fuel-efficient car's place in the market. The seatbacks are tall enough to provide some whiplash protection to bigger drivers.
In the rear compartment, legroom is resourcefully increased by scalloping out the backs of the front seats.
Trunk volume in the 4-door sedan is 12.0 cubic feet, but our 5-door test car, with its cargo room maximized, delivered a generous 52.4 cubic feet. Lift-over height is moderate: 27.0 inches.
The Impreza HVAC is absolutely straightforward and powerful, and the audio is good by contemporary standards, not exceptional but acceptable. The body-color electric outside mirrors are large enough for decent rearward visibility.
This is a comfortable, well-furnished interior, fully in keeping with Subaru's down-to-earth practicality. The Impreza is a simple economy sedan in some respects, but with sufficient style and comfort to attract to buyers well beyond the Subaru faithful.
* Although every reasonable effort has been made to ensure the accuracy of the information contained on this site, absolute accuracy cannot be guaranteed. This site, and all information and materials appearing on it, are presented to the user "as is" without warranty of any kind, either express or implied, including but not limited to the implied warranties of merchantability, fitness for a particular purpose, title or non-infringement. All vehicles are subject to prior sale. Price does not include applicable tax, title, and license. Not responsible for typographical errors.